N.A.Toˇ project is based on performance Atlas by Florent Golfier. As activist clown Atlas, he invited audiences for a walk through different cities and to become members of the utopian clownocratic "Nose assembly for Tomorrow". Different meetings and encounters led him to create a broader network of performing artists and activists.
The N.A.Toˇ network is slowly growing through N.A.Toˇ gatherings. During 2023 three assemblies are planned: in Brno (CZ), Maria Schutz (AT) and Budapest (HU). The Crew around N.A.Toˇ will announce an open call for every Version. Attendees can look forward to an intensive event full of workshops, discussions, lectures and plenums. Some parts of the program are open to the public.
Brno – programme for the public:
23. 3. 17–19:30 / Workshop: Rhythms of Resistance od RoR Vienna
24. 3. 17–18 / Discussion: Can a clown be an activist?
25. 3. 14–17 / Open Space: Skill sharing
26. 3. Final Performance in streets of Brno
Workshop Rhythms of Resistance by RoR Vienna
23. 3., 17–19:30, Sklepní scéna CED
The Rhythms of Resistance is a network of activists protesting against patriarchy, fascism, racism and all forms of domination by drumming. RoR network comprises more than 75 separate activist drumming bands all over the world. All the bands in the RoR network play the same tunes and use the same hand signals. During the workshop, you will learn more about the network, its history and its way of working. In the practical part, you will learn basic tunes and hand signs. No experience is needed. Everyone is invited to drum with us! Workshop is led in English language. No special tools requiered.
Registration requested: Roman Zmrzlý, nose-assembly@posteo.net
Led by: Adriano Vinca and Anna Emilia Forck from RoR Vienna
Lecture: Can a clown be an activist?
24. 3., 17–18:00, Sklepní scéna CED
The clown Agnez will hold a short lecture about CIRCA – Clandestine Insurgent Rebel Clown Army. CIRCA is an anti-authoritarian left-wing activist group that uses clowning and non-violent tactics to act against corporate globalization, war, and other issues. The developed methods were a huge inspiration for the creation of N.A.Toˇ. The lecture will be followed by an open discussion on the relationship between activism and clowning and the potential of humour and fun in protest actions. Discussion is led in English.
Registration requested: Roman Zmrzlý, nose-assembly@posteo.net
Led by: Agnez (Laura Brechmann)
Open Space: Skill Sharing
25. 3., 14–17:00, Sklepní scéna CED
In the Open Space of N.A.Toˇ, volunteers from participants will share their different skills, visions and knowledge. They may include storytelling, documentary theatre, yoga, meditation session, collective care space, internet privacy strategies and theatre of oppressed methods. The concrete program of the Open space will be decided by the participants. Feel kindly invited to join us and be surprised. Open space is led in English language.
Registration requested: Roman Zmrzlý, nose-assembly@posteo.net
Led by: N.A.Toˇ participants of Brno
Closing Action
26. 3., Public space in the streets of Brno
Members of the N.A.Toˇ will spread in the streets of Brno to try several forms of poetical protests. Juggling between different fool strategies, performers and activists will try new ways of gravity strikes, strategic frivolity and other clownocratic subversive actions. The precise content, time and place of the event are to be defined during the gathering. This action is led in universal language.
More info on FB tYhle
Led by: N.A.Toˇ participants of Brno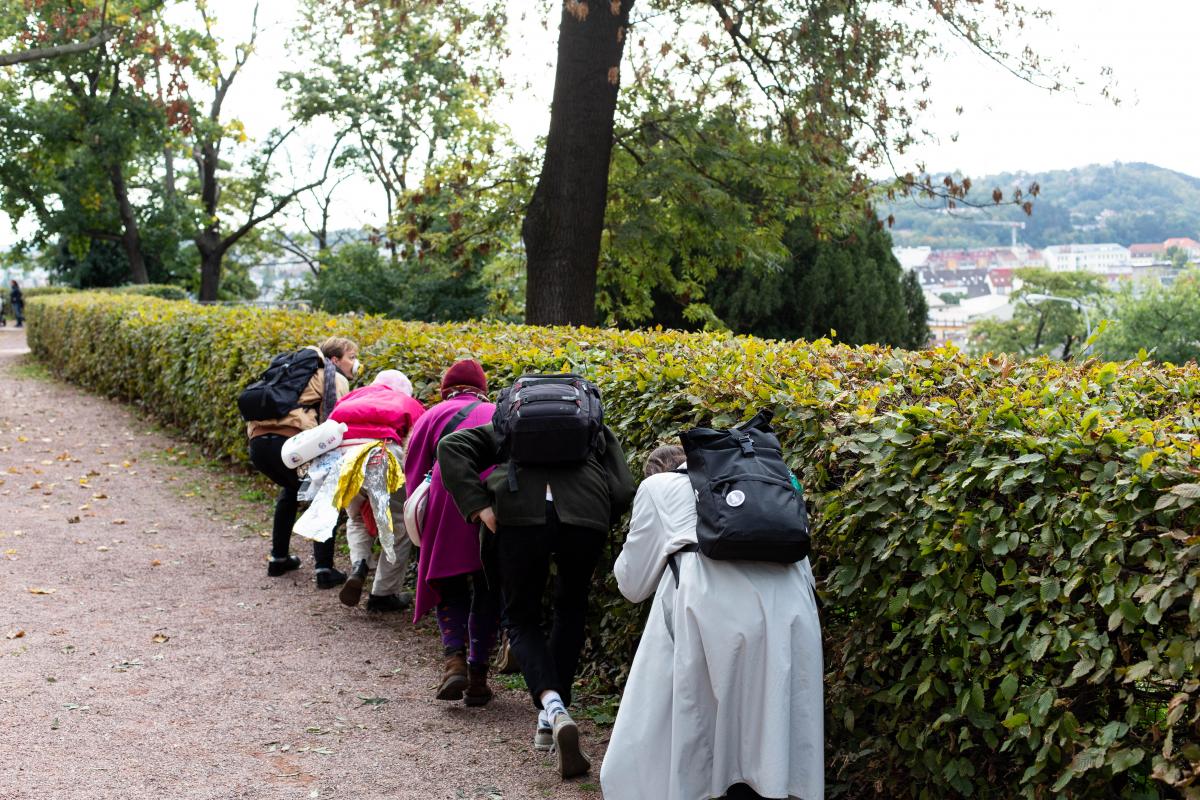 N.A.To-Crew: Laura Brechmann, Florent Golfier, Ondřej Holba, Barbora Liška, Jakub Liška
Produkce: tYhle, Roman Zmrzlý
About N.A.Toˇ team:
Laura Brechmann
studied Film- Theater- and Cultural Studies and European Literature for her Bachelor's degree at Johannes-Gutenberg Universität Mainz and Scenic Research at Ruhr-Universität Bochum in her Master's degree. From 2018 to 2021, she worked as a research assistant at JGU Mainz in the field of theater studies. Her research focuses on essay research, artistic methodologies, performance & philosophy, and artistic research. In addition to her teaching and research activities, she is active as a performance artist in Germany, Austria and the Czech Republic. Since spring 2021, she is part of the PEEK project Navigating Dizziness Together (21-23).
Florent Golfier
is a performer, choreographer and activist born in France and based in the Czech Republic. Together with Lukáš Karásek, Marie Gourdain and Zuzana Režná, he founded the performing art collective tYhle, he has co-created nine performances as a choreographer or performer. He has worked with choreographers such as Karine Ponties, Kitt Johnson, Vít Nezval, Linda and Mathias Straub and Ondřej Holba. As an artist, he aims to connect with the fragility we all share, and from which we draw inspiration, honesty and power, and help others to accept it as a precious part of ourselves. Based on this artistic approach, Florent searches for ways to connect initiatives across disciplines in order to work on acknowledgment and clarification of our present and future identities. His project Babel trilogy continues with a series of linguistic and movement laboratories that he organizes together with the Czech-German Psycholinguist Prof. Dr. Barbara Mertins. And with his clown-activist project Atlas he is making connections between the performing art and climate activist scenes with being performing both on festivals and on climate camps, demos or other kinds of direct actions.
Ondřej Holba
is a contact juggler. He created his works Still Life as well as And Who is Useless Now? in collaboration with Finnish director and clown Herne Väätäinen. The focus of his work lies on contemporary circus and old pantomime art, whereas his current interest lies with robots and artificial intelligence. His work has been inspired by philosophical questions regarding artificial intelligence, art, music, and the application of light as well as on the combination of all of them.
Barbora Liška
studied Theatre Studies and German at MU. She has long been interested in performance, movement theatre and theatre dance. She is also involved in the popularization of theatre among high school students and others within the project of the junior university DiFa JAMU and as a dramaturgy lecturer at the Brno HaDivadlo. Currently, she runs the CED_observer internship and works externally in the editorial office of CEDIT journal.
Jakub Liška
studied dramaturgy at JAMU. He is currently studying for his PhD at the Department of Theatre Studies at MU. His dissertation research focuses on the sociology of theatre, especially the institutional, social and cultural conditions that influence or co-determine the formation of theatre dramaturgy. He is an editor of CEDIT journal published by Centre for experimental theatre in Brno.